The Rapid Response Boat - RRB 120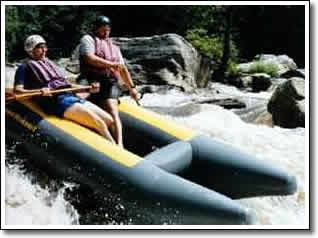 The Rapid Response is a lightweight, portable, inflatable pontoon boat that is used by rescue squads, fire departments, and police as an emergency carry-in craft for situations where access to water is physically limited. Constructed from rugged vulcanized neoprene coated fabric, the Rapid Response stores in a compact (28" by 18" by 14") carrying case. Using the nylon lifting handles, this 90 lb boat can be easily carried to the water's edge and inflated within a few minutes using a single bottle of compressed air (80 cu. ft) such as a Scott Pack or SCUBA bottle. Built-in pressure relief valves guard against over-inflation.
The Rapid Response can be paddled like a canoe (by crew of 1 to 4) or it can be propelled by a 1O hp outboard motor mounted on a strap-in transom. The elevated rubber floor has 4 built-in foot stirrups to provide more secure seating for passengers and crew. The Rapid Response is self bailing to help rescuers concentrate on their primary mission.
Demaree Inflatable Boats manufactures the Rapid Response in a variety of lengths and widths as well as offering custom configurations and construction materials. We can vulcanize your company's name, logo, or fleet number on the side of the boat for permanent identification.