17' Mini Snout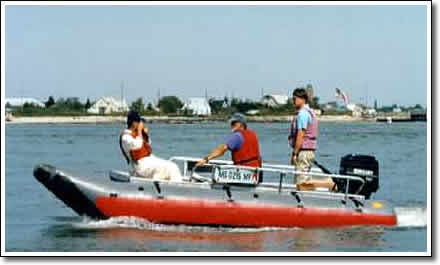 The 17' Mini Snout is a medium sized, hard deck, soft hull, self bailing work boat with a pontoon configuration. Designed for work where a stable platform is needed in either rough water or flat water, the 17' Mini Snout performs well where fendering is required. The boat can be fitted with a towing bitt and can also be davit launched while loaded.
17' Mini Snout Technical Data
This boat is made with 60 ounce/yard, Mil-C14505 Type 7 material. It has six (6) separate air chambers. We can vulcanize your company's name, logo, or fleet number on the side of the boat for permanent identification.
| Data | Standard | Metric |
| --- | --- | --- |
| | | |
| Overall Length | 17' 3" | 5.17 m |
| Overall Width | 8' 6" | 2.5 m |
| Deck Length | 12' | 3.65 m |
| Deck Width | 6' 4" | 2 m |
| Pontoon Diameter | 26" | 610 mm |
| Weight Without Engine | 640 lbs | 290 kg |
| Design Working Load | 2000 lbs | 909 kg |
| Maximum Bouyancy | 8,200 lbs | 1590 kg |
| Deck - 5086 Marine Alloy | 3/16" | |
| Power Rating | 75 hp | 55 kw |