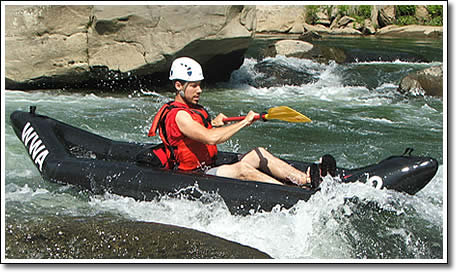 Inflatable Kayaks
Inflatable Kayaks are becoming more and more popular all the time. Our inflatable kayaks can be transported to places a traditional hard-bodied kayak cannot be. Try taking a traditional kayak on a flight across the country. Ours can fit in a small bag.
Our inflatable kayaks are built to the same strict guidelines as our bigger boats, so you know you are getting the same high quality product that D.I.B. is known for. They are made endure years of abuse. For this reason, they are chosen by many raft outfitters as their inflatable kayak of choice.
We offer both a single and a double inflatable kayak.
Fill out our contact form or call us at 1-800-DIB-TUBE to find out how adding some inflatable kayaks to your outfitting company can improve profits and give your guest that extra bit of excitement!
Inflatable Kayak Specs
Coming Soon
Click any Image for a larger view