23' Snout Rig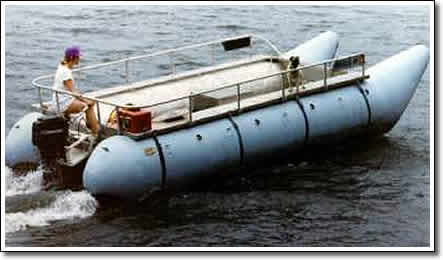 The Snout Rig is a two tube pontoon boat utilizing 36" diameter inflatable pontoons and a single piece, aluminum deck/frame structure. This versatile boat features a self bailing frame and excellent stability. It has been in use for many years on the larger volume whitewater rivers where maneuverability and good load capacity are required.
Optional features may include safety rails, fuel tanks, control console, coolers, storage boxes, and wider frame width. Accommodations for special equipment may be built into the frames.
23' Snout Rig Technical Data
This boat is made with 60 ounce/yard, Mil-C14505 Type 7 material. It has eight (8) separate air chambers. We can vulcanize your company's name, logo, or fleet number on the side of the boat for permanent identification.
| Data | Standard | Metric |
| --- | --- | --- |
| | | |
| Overall Length | 23' | 7 m |
| Overall Width | 9' | 2.74 m |
| Deck Length | 15.6' | 4.73 m |
| Deck Width | 7' | 2.13 m |
| Pontoon Diameter | 36" | 910 mm |
| Weight Without Engine | 1000 lbs | 454 kg |
| Design Working Load | 6000 lbs | 2721 kg |
| Maximum Bouyancy | 16,000 lbs | 7250 kg |
| Deck - 5086 Marine Alloy | 1/8" | 3.22 mm |
| Power Rating | 150 hp | 110 kw |