28' River Freighter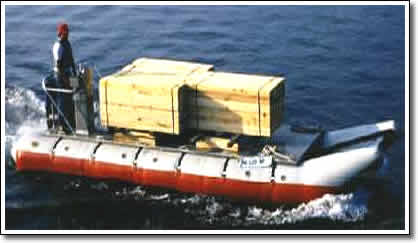 Designed with good stability and high payload capacity, the DIB Freighter also features easy portability. The boat derigs to a package measuring 10'2" x 7' x 4' which fits a standard air cargo pallet. The two piece deck/frame nests with the tubes on the top frame.
The inflatable pontoons have five air chambers each. We fabricate the pontoons from 60 ounce per square yard, neoprene-coated fabric. Each tube is assembled of uncured materials, painted to the desired color, and then vulcanized as a unit in our dry-heat autoclave. These inflatable pontoons are easily maintained.
Another feature of the DIB River Freighter is its self-bailing design. This design provides the capability to perform in rough water and river currents environments. The aluminum deck/frame serves as a stable, rigid working platform. Equipment can drive onto a river freighter outfitted with decks and a ramp. Also, the inflatable pontoon hull allows the boat to work in congested areas without suffering damage when bumped.
28'' River FreighterTechnical Data
This boat is made with 60 ounce/yard, Mil-C14505 Type 7 material. It has ten (10) separate air chambers. We can vulcanize your company's name, logo, or fleet number on the side of the boat for permanent identification.
| Data | Standard | Metric |
| --- | --- | --- |
| | | |
| Overall Length | 28' | 8.5 m |
| Overall Width | 9' | 2.74 m |
| Deck Length | 20' | 6.1 m |
| Deck Width | 7' | 2.13 m |
| Pontoon Diameter | 36" | 910 mm |
| Weight Without Engine | 1,600 lbs | 725 kg |
| Design Working Load | 9,000 lbs | 4,080 kg |
| Maximum Bouyancy | 24,000 lbs | 10,900 kg |
| Deck - 5086 Marine Alloy | 1/8" | 3.22 mm |
| Power Rating | 200 hp | 149 kw |