14' Mini Snout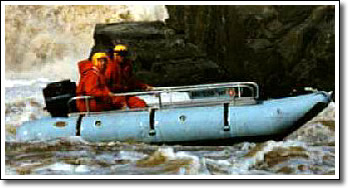 The 14' Mini Snout is a hard deck, soft hull, self bailing pontoon boat. It is designed primarily as a rough water rescue boat, The hard deck provides a solid and secure working platform, and the soft hull (inflatable pontoons) allows for solid hits without damage or mission failure.
Fill out our contact form today and find out how adding a mini snout can increase the flexibility of your rescue squad.
More pictures coming soon.
14' Mini Snout Technical Data
This boat is made with 60 ounce/yard, Mil-C14505 Type 7 material. It has four (4) separate air chambers. We can vulcanize your company's name, logo, or fleet number on the side of the boat for permanent identification.
| Data | Standard | Metric |
| --- | --- | --- |
| | | |
| Overall Length | 14' 3" | 4.34 m |
| Overall Width | 7' 4" | 2.17 m |
| Deck Length | 9' 6" | 2.74 m |
| Deck Width | 5' 6" | 1.67 m |
| Pontoon Diameter | 26" | 610 mm |
| Weight Without Engine | 490 lbs | 208 kg |
| Design Working Load | 1700 lbs | 453 kg |
| Maximum Bouyancy | 5,000 lbs | 1950 kg |
| Deck - 5086 Marine Alloy | 1/8" | 3.22 mm |
| Power Rating | 55 hp | 37 kw |