23' Ship To Shore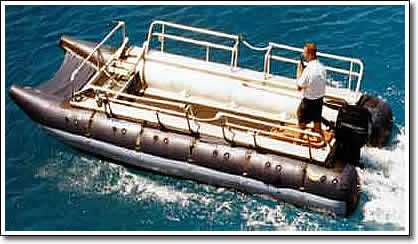 The Ship to Shore's pontoon design provides increased stability for ship side boarding and rough water operations over conventional monohulled boats. It does not require a cradle since the pontoons will set on any flat surface.
The rigid deck offers comfortable seating with the safety rail as back support for guests. This deck also features four eyes for lifting.
We fabricate the pontoons using vulcanized neoprene construction with a Hypalon finish for the color desired. The pontoons provide both bouancy and fendering.
The U.S. Coast Guard has certified the Ship to Shore to carry 20 passengers and 2 crew. The Ship to Shore is made entirely in the USA.
23' Ship To Shore Boat Technical Data
This boat is made with 60 ounce/yard, Mil-C14505 Type 7 material. It has twelve (14) separate air chambers. We can vulcanize your company's name, logo, or fleet number on the side of the boat for permanent identification.
| Data | Standard | Metric |
| --- | --- | --- |
| | | |
| Overall Length | 23' | 7.01 m |
| Overall Width | 9' 0" | 2.74 m |
| Pontoon Diameter | 36" | 915 mm |
| Air Chambers per boat | 14 total | 2.13 m |
| Weight Without Engine | 1700 lbs | 773 kg |
| Design Workload | 4070 lbs | 1850 kg |
| Deck - 5086 Marine Alloy | 3/16" | 4.75 mm |
| Maximum Bouyancy | 16,000 lbs | 7273 kg |
| Maximum Power Rating | 100 hp | |