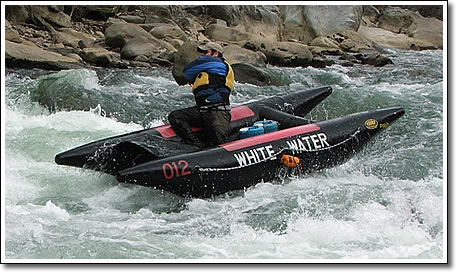 Personal Paddle Boats - P.P.B.'s
P.P.B.'s are a terrific boat when a full size raft is just a little bit too much. Light, stable, highly maneuverable, and the perfect size for one or two people, the P.P.B. is a premiere white water boat.
The P.P.B. has four individual chambers. Two pontoons on the outside and two smaller cross tubes. The center is above water and set deep in the boat and all P.P.B.'s are self bailing. White water outfitters use P.P.B.'s for customer rentals and their guides use them for hauling gear, and even safety boating.
We can vulcanize your company's name, logo, or fleet number on the side of the boat for permanent identification.
Contact us today to find out how adding P.P.B.'s can enhance your current fleet.
P.P.B. Specs
Click any Image for a larger view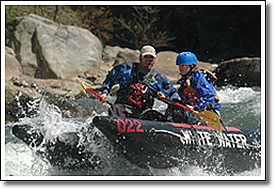 Caution:
Operation of this boat in swift water or whitewater conditions requires skilled operators who have been specifically trained for these environments.