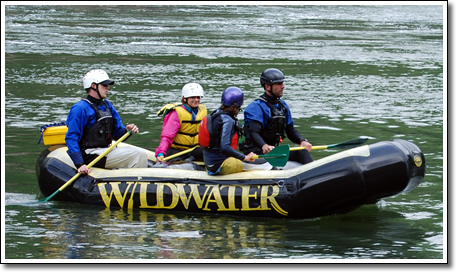 Grand Canyon Style Inflatable Rowing Rafts
Designed to carry medium to heavy loads
Symmetrical, double ended boat
Two (2) 16" Crosstubes
Eight (8) Inflatable Chambers
Made from 60 ounce material
The Grand Canyon Rowing Boat was designed primarily as a rowing boat, however, many outiftters are using it with great success as a paddle boat on commercial rafting trips.
Grand Canyon Rowing Rig Boat Technical Data
This boat is made with 60 oz. materal. The floor is made from 60 oz. material. It has eight (8) separate air chambers. We can vulcanize your company's name, logo, or fleet number on the side of the boat for permanent identification.
| Data | Standard |
| --- | --- |
| | |
| Overall Length | 18' 4" |
| Overall Width | 7" 10" |
| Deck Length | 9' 6" |
| Deck Width | 4' |
| Main Tube Diameter | 22" |
| Cross Tube Diameter | 16" |
| Cross Tubes | 2 |
| 4" D-Rings | 12 |
| Bow Lift | 12" |
| Stern Lift | 12" |
| Weight | 170 lbs. |