32' River Freighter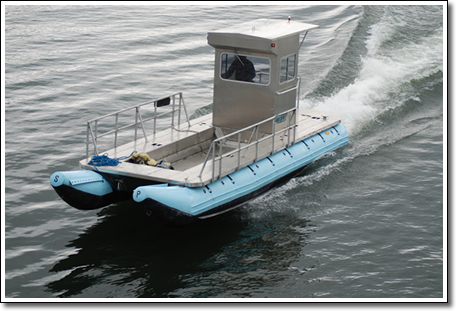 The 32' River Freighter is a rugged hard-deck, inflatable hull, self-bailing workboat currently used for a variety of missions including general transport, geophysical research, construction support, surf zone exploration, oil spill clean-up support, and even brine shrimp harvesting. The diamond plate aluminum alloy deck provides a solid and secure working platform with a sturdy transom for mounting single or twin outboard motors. The rugged inflatable pontoons provide an excellent fender, absorbing firm hits without damage to the boat or another vessel. The self-bailing feature ensures a buoyant platform regardless of water taken over the deck. The pontoons provide more stability in rough water than standard mono hull designs.
The River Freighter is designed to be taken apart and palletized for quick, easy transport by air or sea cargo to remote locations around the world. The aluminum deck is available as a single 24' unit or as multiple shorter units, which nest inside one another for more compact shipping and storage. To protect the boat while in transit, the pontoons can be deflated, rolled up, and strapped inside the frame. The River Freighter can be assembled for use as needed and stored neatly away when not in use. Three disassembled boats fit into a 40' shipping container. The boat can be purchased with an optional wheelhouse and other custom configurations. Although standard River Freighters are constructed from vulcanized neoprene, the boat is also offered in a nitrile rubber configuration for added durability in oil spill environments.
Custom Boats
Need something larger than 32 feet in length? No problem! D.I.B. specializes in custom made boats. Check out a 41 foot river freighter we recently made for a client of ours.
32'' River Freighter Technical Data
This boat is made with 60 ounce/yard, Mil-C14505 Type 7 material. It has twelve (12) separate air chambers. We can vulcanize your company's name, logo, or fleet number on the side of the boat for permanent identification.
| Data | Standard | Metric |
| --- | --- | --- |
| | | |
| Overall Length | 32' | 9.75 m |
| Overall Width | 10' | 3 m |
| Deck Length | 24' | 7.3 m |
| Deck Width | 7' 10" | 2.38 m |
| Pontoon Diameter | 36" | 910 mm |
| Weight Without Engine | 2,100 lbs | 951 kg |
| Design Working Load | 11,000 lbs | 4,980 kg |
| Maximum Bouyancy | 26,000 lbs | 11,775 kg |
| Deck - 5086 Marine Alloy | 1/8" | 3.22 mm |
| Power Rating | Twin 200 hp | Twin 149 kw |